Planning a bridal shower and need to order invitations?
Check out these bridal shower invitations that I arranged in three different categories: Black and White, Wedding Cake, and Purple.
Don't miss the video from The Knot at the end describing 5 Fun Bridal Shower Games.
And if you need more inspiration, you can read my review of the book Creative Wedding Showers.
Have fun!
Black and White Invitations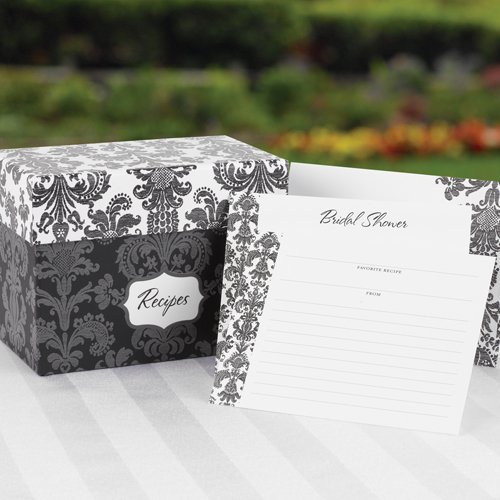 Damask Recipe Box Invitations
25 per set


Black and White Damask Invitations
Set of 50


Pink Floral Shower Invitations
20 Count


"Bride Glow" Invitations
Priced individually


Bridal — Mode Bride
Priced individually


Black Damask Invitations
8-Count

*
**********************
Wedding Cake Invitations

Wilton Cake Invitations
17 color choices


Wedding Cake Blooms Invitations


"I Do Cake" Invitations
8 count


Gilded Cake Shower Invitations
Priced individually


Chic Wedding Cake Invitations
8 pack


Wedding Cake Fill-In Invitations

*
**********************
Purple Bridal Shower Invitations

Purple Fill-In Invitations
Comes in pack of 8


Purple Damask Invitations
50 cards


Lilac Floral Invitations
10 per package


Purple Chevron Invitations
8 count


Purple Damask Invitations
50 in set

*
**********************
5 Fun Bridal Shower Games
Related Posts
Book Review: Creative Wedding Showers