I've said it before, but one of the most awesome things about being a wedding pianist is that I get to travel to the most gorgeous Atlanta wedding venues — both indoor and outdoor.
While I certainly have never been to a venue that I actually disliked, there are definitely venues that have stuck as out my favorites. Here's my "Favorites List," in no particular order:
1) Rhodes Hall
Rhodes Hall, known as "The Castle on Peachtree Street," was built in 1904 and features both stained glass windows and an elaborately carved mahogany winding staircase.
"Super romantic, intimate, and historical," writes Tiffany, a reviewer on Wedding Wire. Lily, another reviewer, adds, "My favorite thing about Rhodes Hall was that it wasn't the same ole' country club/hotel ballroom."
Exactly. That's how I feel about it myself.
2) Callanwolde Fine Arts Center
Callanwolde Fine Arts Center is another unique venue, a Gothic-Tudor style mansion on a 12.5-acre estate. "If you are waffling between Callanwolde and another venue," writes Julianne on Wedding Wire, "just take the time to look at the beautiful staircase. The staircase will make your decision for you."
Photo courtesy of Paperlily Photography.
3) Lake Lanier Islands Outdoor Venues
Lake Lanier Islands is the only venue on my list that doesn't have a piano. Normally that would knock a venue down about half a point for me, but the view at Lake Lanier is so breathtaking that it's well worth having to haul and hook up my own equipment.
"My girls and I spent the night before my wedding in GORGEOUS villas on the lake we got ready there the next morning," writes Emily on Wedding Wire. "My husband and his guys stayed at a lake house and woke up for golf the morning before our wedding. Talk about luxury."
Photo courtesy of Wedding Kiss Photography.
4) The Wimbish House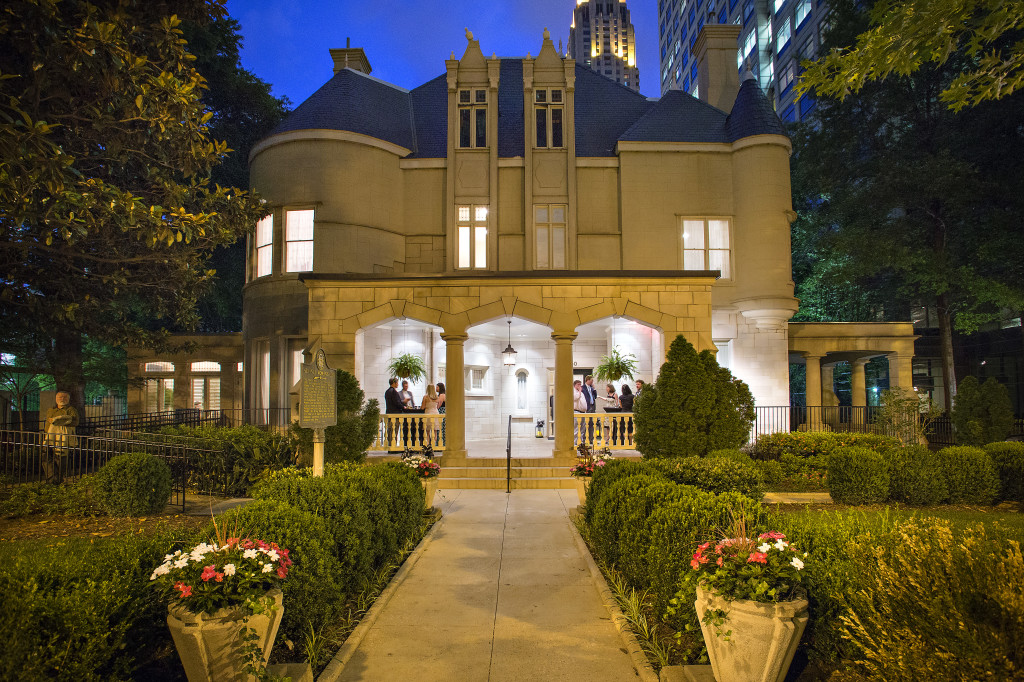 One of my personal favorite things about Wimbish House is that they have two pianos (and one of them is a Steinway — 'nuff said!) which makes it perfect for piano music for the ceremony as well as the cocktail hour, a combo I really enjoy playing for. It's location on Peachtree at 14th is another huge selling point.
"We had guests coming from across the country and so we liked that they got a true taste of Atlanta," writes Shannon in her review. Adds Nullissa, "Excellent location in the heart of midtown yet still has southern charm on the inside."
Photo courtesy of Cayce Callaway Photography.
5) Georgian Terrace
Georgian Terrace is another venue with a great midtown location, right across the street from The Fox Theater.
"This venue made my fairy tale wedding a dream come true," writes Shamaine. And D'Lovely saiys, "Beyond the hotel's history and lore, it is just a beautiful space. From the crown molding in their ballrooms, to the beautifully carpeted lobby and event areas, from the columns, to the atrium. You will lose yourself in the majesty on your wedding day."
6) Piedmont Estate and Gardens
3109 Piedmont Estate and Gardens (also known as "The Estate") is located in the heart of Buckhead. Lindsey, in her Yelp review, describes it as "absolutely beautiful" and says, "The venue is large enough to support large scale parties while maintaining an elegant setting with just enough 'Southern Charm.'" And I've already shared in the past how much I love their piano.
Hi, I'm Jenny! I'm a wedding musician in Atlanta and a professional author. My first book, Confessions of a Wedding Musician Mom is available on kindle and paperback. It's a humorous story about Heather Hershey, a stay-at-home mom who decides to become a wedding musician and the pandemonium that goes with starting a new business and juggling kids.
It's totally fiction. That's my story, and I'm sticking to it.