I was pleased to be a part of Destination: Georgian Terrace this past weekend at The Georgian Terrace Hotel on Peachtree Street in midtown.
It was well-organized and cleverly done. When brides arrived, they received a map of the hotel and a passport which indicated the different room they needed to visit in order to receive a stamp. Brides who returned their completed passport got a goody bag!
There was a lot of really great stuff to see, so let me take you on a virtual tour …
We'll begin in the Piedmont Foyer. Here there were displays from David at Chelsea Floral and Ginny at Southern Living Hotel Collection. The Georgian Terrace has recently been welcomed as the only Atlanta hotel in Southern Living's membership, so that's a pretty big honor.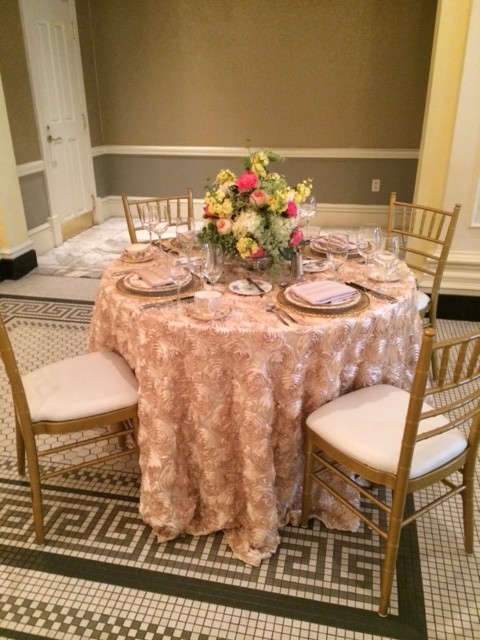 Mimosas and hors d'oeuvres were served, with decor provided by Peachtree Petals.
The Piedmont Foyer led into the Piedmont Ballroom, which was set up for a mock wedding ceremony. This was where I was playing the piano.
Unfortunately, I didnt' get any pictures of myself, which is really too bad because I had my hair up in a cute do! 🙁
But here's the piano I was playing in the ballroom, which was both lovely and well–tuned:
So you'll have to imagine me sitting there (in my cute updo) playing songs ranging from "Wonderful Tonight" by Eric Clapton, "Season of Love" from RENT, and Pachelbel's "Canon in D."
Along the Clock Hallway, there was a display of  gowns from Adore: A Bridal Boutique. I love this dress — both the color and the flattering cut. And the, uh … twirly straps. I'm sure there's a more official way to describe it.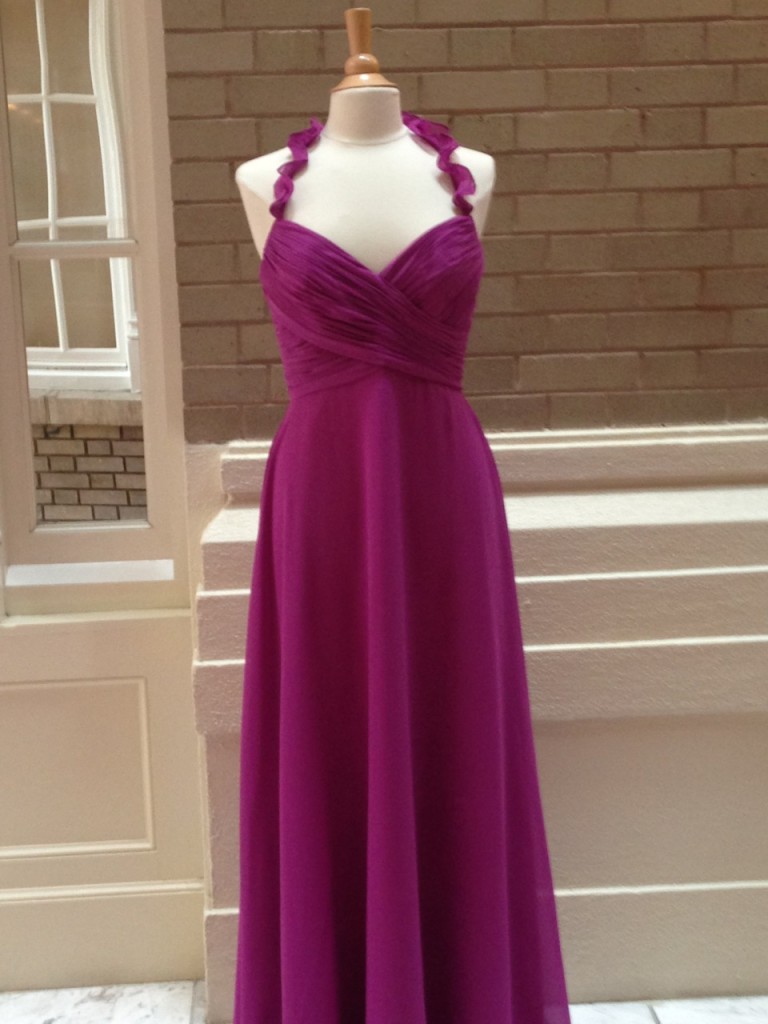 In the Mitchell Ballroom there was  yet another mock wedding ceremony! This one was put together by Becky Shehan from A Very Special Wedding.
The mock reception was being held in the Grand Ballroom. Mike Walsh from Ampd Atlanta provided music, while the decor was courtesy of the ladies at  Bloomin Bouquets and Pretty Swell Parties.
I love the menus from Dondrea at  Jenkins-Rose that were tucked into the napkins.
And just look at this incredible centerpiece!
Well, you can't have a decent wedding reception without an amazing cake, and today's cake was provide by Karyn and Jeff at Frosted Pumpkin Gourmet. I almost took a photo of my own slab of cake on my plate, and now I wish I had, because it was possibly more impressive than the photo below. Imagine this … chocolate layer cake with caramel instead of icing. It was gooey good. My kids were very jealous.
Other Atlanta wedding professionals that were featured included Event Rentals Unlimited, Table  6 Productions, and Cover Ups Linens.
Check out some of my other posts!
My Interview with Tom at Georgia Dove
What Music Do We Need for Our Wedding Ceremony?
Need a Chuckle? Read Miss Manners on Weddings