Sweaters and jeans …  Halloween … pumpkin spice lattes.
Yes, I've always loved fall. In fact, I chose an October wedding myself — my husband and I just celebrated last week.
So it's no surprise that I was biased toward Kaley and Alex's wedding last weekend with Legacy Weddings at Lake Lanier Islands.
If you look closely in the top photo,  you can see me under the covering on the left. And in front of me is a white table with doves. Yes, real doves. During the ceremony there was a dove release, courtesy of Tom Reed, the owner of Georgia Dove. It was incredible to watch.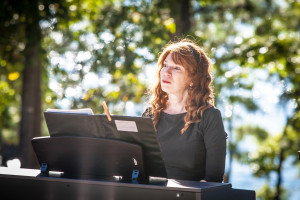 Thanks to Marlon at Wedding Kiss Photography for kind permission to use photos.
A special thanks to DJ Tod at Peavy Entertainment, who not only referred me for this wedding, but wheeled all my equipment back to my car when the ceremony was over!