Wimbish House on Peachtree Street in midtown is a venue I've played at multiple times. I was there once again to play for the ceremony, cocktail hour, and reception (what I describe as "Wedding Package A") for Lavin and Chris.
Being an Irish redhead, I've always been partial to the color green. I love these tablecloths and centerpieces.

All Photos Courtesy of Adrienne Lampe Photography
Here's Lavin, who grew up in Atlanta and has worked for both House Speaker Newt Gingrich and the Bush White House while living in Washington, D.C. She currently works for Governor Nathan Deal in Atlanta. I can't help thinking the words "Cutie Patootie" whenever I see her.
Chris is a financial services guy who loves golf. One Friday afternoon he took Lavin to the park where they had their first date, set up a picnic, then got down on one knee and proposed!
One of the things I like about playing at Wimbish House is that there are two pianos, both upstairs and downstairs, so the piano music can continue when they flip the room for reception.
This is me playing the piano for the prelude and ceremony. The piano for the cocktail hour is even better — it's a Steinway!
(Hey, is that like those bumper stickers that say "My other car is a Porsche"?) 😉
Lavin and Chris had some specific song requests for the prelude while their guests arrived, including Schubert's "Ave Maria," and Beethoven's "Fur Elise" and "Moonlight Sonata."
For the seating of the mothers and grandmothers, I played J.S. Bach's "Jesu, Joy of Man's Desiring."
I like how these bridesmaids dresses have a bare shoulder on one side (sorry, I'm sure there's a more fashionably correct way to describe it). I particularly like  how this bridesmaid had her hair on one side to offset it.
Gotta love a cute flower girl photo! The processional piece was Pachelbel's "Canon in D."
Here's Lavin and her father, getting ready to enter. See what I mean about her being a Cutie Patootie?
The recessional music was "Spring" from Vivaldi's Four Seasons, followed by Beethoven's "Ode to Joy."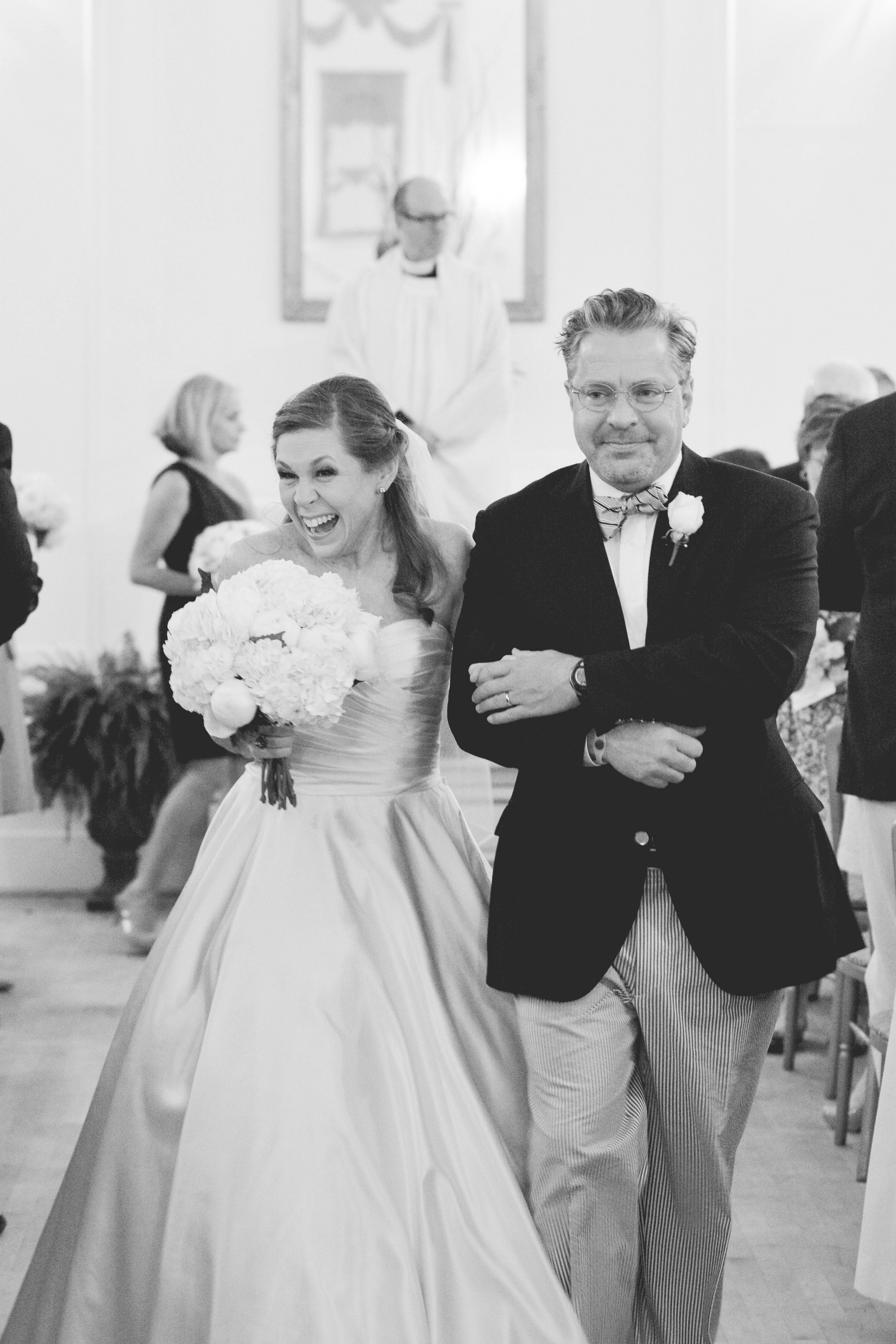 The cake was from McEntyre's Bakery. Lovely!
This was one of those wedding jobs where I got to eat dinner during a break, and boy, was I glad! Among other things, Soiree Catering had a Grits Bar — you got a little scoop of grits, then got to adorn it yourself with things like bacon bits, cheese, shrimp, etc. Everything was delicious.
Okay, now this was really fun. I had just gotten the music for "Let it Go" from Frozen and played it for the first time at Lavin and Chris's reception. These girls were so excited that they asked me to play it again while they sang onstage for everybody. It was nice for me to make some little girls so happy.
Let it Go — from the Movie "Frozen"
And a beautiful flower petal exit.
A big thanks to Adrienne Lampe Photography for permission to use these lovely photos!