As you already know, I've played for several weddings at Wimbish House on Peachtree Street before.
Well, in June I was back for Geoff and Emily's wedding!
Our photos today begin "backstage" (yes, I do have a theater background) before the ceremony begins. Here's Geoff and his groomsmen …
While, meanwhile the ladies were also getting ready …
Emily looks ready to go!
Mary from Buckhead Florist provided these beautiful flowers.
Where's our officiant? Ah, here she is — Rev. Meghan Gurley, upstairs visiting with Geoff's mother.
Apparently one of Geoff and Emily's ceremony themes was "Redheads." Works for me! 😉
The ceremony room downstairs is ready as well. We have Janice at Cover Ups Linens to thank for these beautiful chairs.
As usual, 30 minutes before the ceremony begins, I start playing the prelude music. I typically play Bach minuets, Clementi and Beethoven Sonatinas, MacDowell's To a Wild Rose, that kind of thing.
To a Wild Rose — MacDowell
And as I'm playing the prelude music, the guests are arriving …
Hey, what do you think this groomsman is saying here? If anyone has an idea for a good caption, let me know! 🙂
Okay, well while you're pondering that one, let's move on to the processional, where I'm playing JS Bach's "Jesu, Joy of Man's Desiring."
And heeeeere's Emily, entering to Pachelbel's Canon in D!
One of the things I love about Wimbish House it has a piano both upstairs and downstairs, so it's perfect for a ceremony/cocktail combo. Here's Geoff and Emily kicking back while I played for the cocktail hour.
After the cocktail hour, I headed home, but for everybody else the party was just getting started!
Dinner was provided by Terry at Wild Oats Catering.
I looove fruit, so I think this huge, colorful salad looks fantastic. This was from a local farmer's market, too — no wonder it looks so good!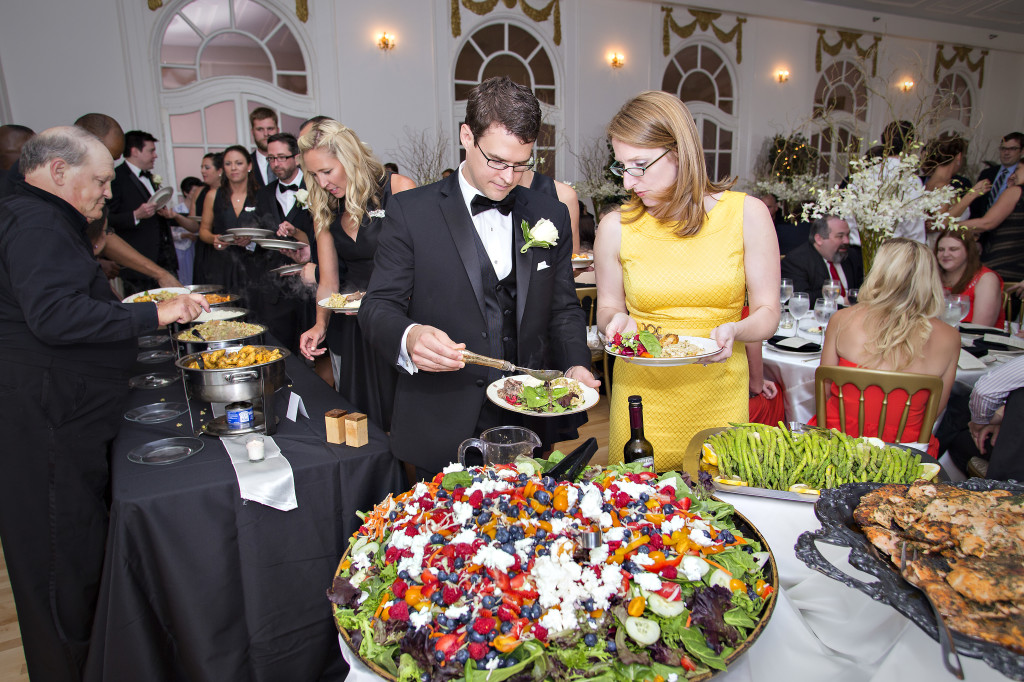 The wedding cake was provided by Whitney at Sugar and Slate.
DJ Matt from Marquee Events handled the music for the reception ….
…. and judging from these photos, it looks like he did a good job!
A big thanks to Atlanta wedding photographer Cayce Callaway for all the great photos!
Know someone who's planning an Atlanta wedding?
Tell them to check out my ebook, 5 Ways to Add a Personal Touch to Your Wedding.
Just enter you into below to get  a copy.