I think this is a first — I had three different events this weekend!
From Buckhead to Roswell to Norcross, I played everything from The Eagles to Schubert, saw beautiful venues, and met interesting people.
Here's my itinerary:
Rehearsal Dinner at The Estate on Piedmont Road
It's been well over a year since I've been to The Estate, and I was happy to be back to their "polished plank pine flooring" and fantastic piano. I also enjoy playing at rehearsal dinner because it's pretty much Anything Goes as far as what songs to play.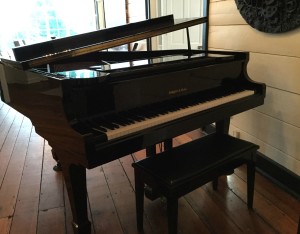 One particularly nice thing was that I got a vendor meal, which almost never happens. Even better, I got to sit and eat in a room with fellow vendors — Kelsey and Ansley of TOAST Events, Zach at Liquid AV, and Chris from 6 of 4 Photography. Working as both a wedding musician and  author is pretty isolating, so it was a real treat to actually eat and chat with some co-workers. (And unfortunate that I didn't think to get a photo of us all together.)
Wedding Ceremony at Roswell Country Club
Friday night had been fun, but also long and tiring, so I was relieved to have a simple wedding ceremony at the Roswell Country Club on Saturday. I played "Ave Maria," "Canon in D," and "A Thousand Years" for the entrance music, and Stevie Wonder's "Signed, Sealed, Delivered" for the recessional.
Outdoor Wedding Ceremony at The Atrium
I had never been to The Atrium in Norcross before, and oooh, was it nice. I arrived and got set up super-early, so I got to take quite a few photos.
And look! Finally a photo of me — and a nice one, too.
So that was my Busy Piano Weekend. And it was great fun, but now I feel like this: