A review of Beau Coup's starfish bookmark favors for weddings and other occasions.
I choose these starfish bookmark favors to purchase and review because:
1) I wanted something practical, since I don't want silly useless junk lying around my house any more than you or your guests do.
2) I love to read and could always use more bookmarks. I plan to give the extras to book-lover friends and/or my son's schoolteachers. (Including the music teacher. People often forget about the music teacher, but of course we must never do that.)
Beau Coup has twenty different bookmark favors to choose from, including this snowflake bookmark and this butterfly bookmark, which I also liked.
Review of Starfish Bookmark Wedding Favors from Beau Coup
The favors arrived in pretty tissue paper with a Thank You note, which I thought was a nice touch.
There is a minimum order of six, which is what I purchased.
The bookmarks are a little smaller than I expected. I took a few photos of them in a book so you can get a better idea of their size.
Here's how the tassel looks when the book is closed.
These would make nice favors for a beach-themed wedding or bridal shower. Since there isn't "wedding specific" about them, they could also work for any kind of summer party, luncheon, etc.
My twelve year daughter is going to a birthday party tomorrow, and she is attaching one, in the box it came in, to the wrapped present. I think it's a very versatile gift.
If you love the beach theme, be sure to check out my post about 18 beach wedding favors, including favors with starfish, flip-flop, and nautical themes.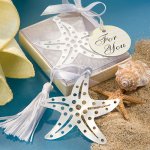 Starfish Bookmark Favor